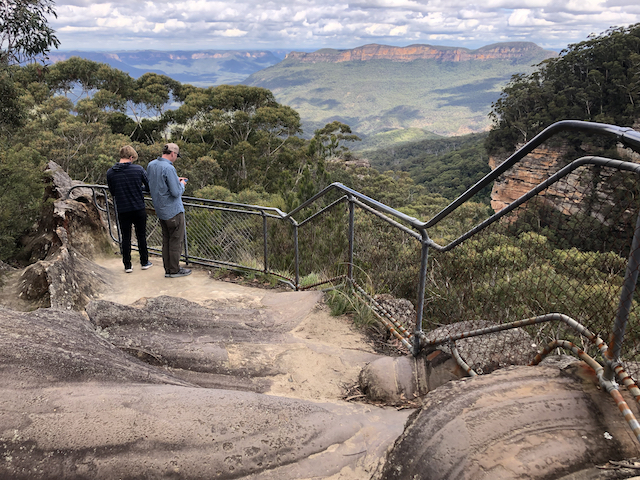 Disclaimer: We drove up the coast from Sydney to Nelson Bay. A few days later, we drove from Sydney and headed directly west into Blue Mountains National Park. If you look on the map, you will see that we ever-so-slightly scratched the New South Wales surface. We recognize that there is a lot more to see in New South Wales and the rest of Australia. Interestingly enough, we felt like we did not have enough time to see everything.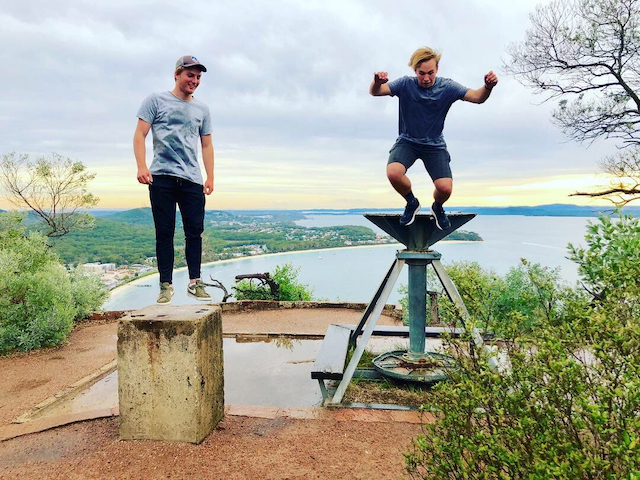 Introduction (stolen from our Sydney Post)
For years I have been determined to get my husband to travel to Australia. He poo-pooed me at every turn. Alas, I secured some cheap airfare and encouraged him to buck up and do some research. Thankfully, his favorite travel writer, Bill Bryson, wrote a great book on Australia: "In A Sunburned Country." My husband loved the book, which turned his Australian frown upside down.
We also like to travel in on the cheap. We get annoyed with cattle call tours, and like to explore on at our own pace. That being said, there are also merits to the tours. Ultimately, the other reality is that I heard Australia is expensive (and it is). That is why I was determined to find inexpensive; free things for our family to see and do. Below is a list of our New South Wales favorites, our recommendations, with map coordinates and accompanying feedback. Enjoy!


Our Favorites: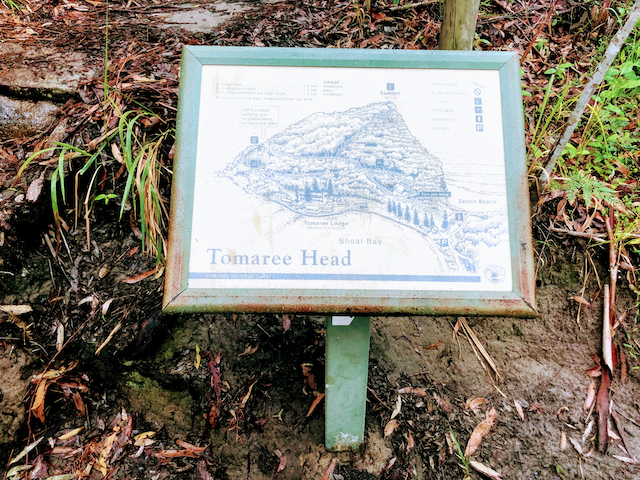 I must admit when we drove to Shoal Bay via Fingal Bay, I was not impressed. The parking spot for the hike at Tomaree Head was less than impressive. Consequently, I naively assumed we were walking to see big trees and pretty birds, which we did. I had no idea what we were in for. That is why I also naively thought that if we did see the water, the views would be disappointing. Once at the top, the 360 degree views of places like Shark Island and the Nelson Bay Lighthouse were stunning.
Our Advice: Don't judge a hike by the picture I post here, or the parking lot you see once you arrive. And whatever you do, do not give up! Climb to the well-paved paths to the top.
Some of the hikes in this area have a lot of steps, can be steep and also have switchbacks. You can access view points that are less steep.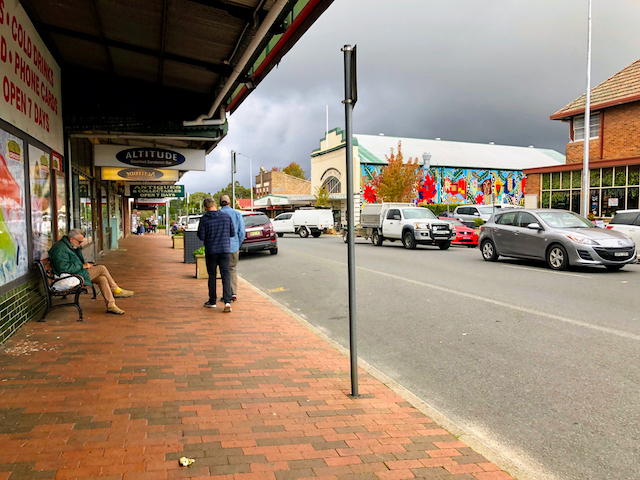 I would argue that Blackheath is another one of those situations where one should not judge a town by say its exterior shop signs. See, as you un-peel the layers, you will find a foodie paradise, including large portion kebabs at Blackheath Kebab House, gluten free and vegan options at places like Cinnabar, and even a butcher with gluten free meats. There are also friendly post office employees, thoughtful graffiti (yes, that is a thing), all within steps of the beautiful Blue Mountains National Park. We only wish we had more time to explore the town.
Things To Do Recommendations: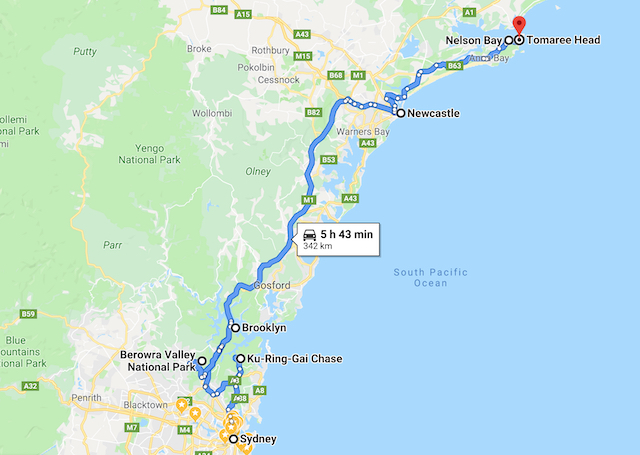 Introduction to our Sydney to Nelson Bay Road Trip: We drove the highway to Newcastle where we spent a few days. On our drive back to Sydney, we tried to take coastal roads and back roads, which included a free ferry ride. We recommend switching from the highway to the back roads. Although pretty, we found the constant highway views of tall rock walls monotonous.
Driving on the left side of the road is required.
Lots of good lodging in Newcastle, Australia including a Holiday Inn Express that opened in Spring 2019.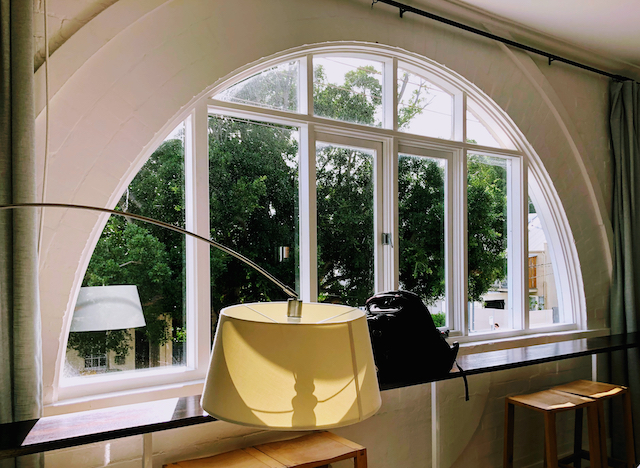 Hip & walkable town
Favorite Woolworths (if that is a thing)
Great Base to see places like Nelson Bay and The Hunter Valley (wine country)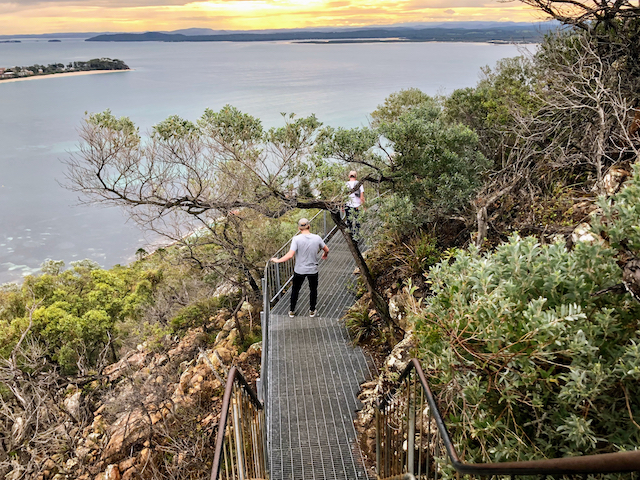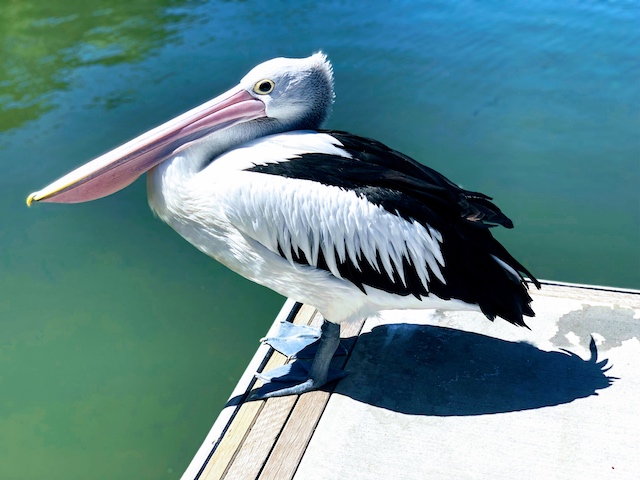 Great City Park with a free restroom & an old school merry-go-round. All we can say is that Brooklyn is small. The City Park is not on the water. It is marked as Bushland Shire, but we have a feeling that Bushland Shire has nothing to do with the actual name of the park. Points to you if you find it.
McKell Park: Nice place, covered picnic areas, barbecues, free parking & restrooms. Also a great stop when using the backroads.
Jerusalem Bay: (There is not a lot of information on Jerusalem Bay. Google Maps has the most comprehensive reviews I could find.)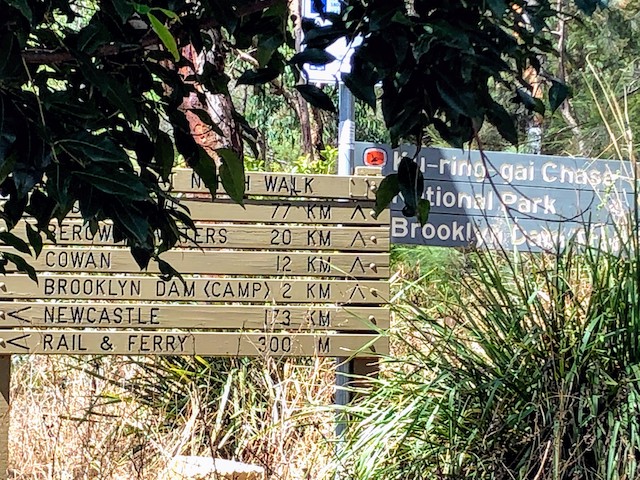 In the interest of full disclosure, we drove through Ku-ring-gai Chase National Park and it is beautiful. We need to go back. We are sad that we didn't have time to take in more of the walking paths, the Great North Walk at Ku-ring-gai, the Aboriginal Sites, including ancient red ochre rock paintings and rock engravings, which apparently can be reached from the Red Hands Cave track.
Of course there are lookouts and another lighthouse to see.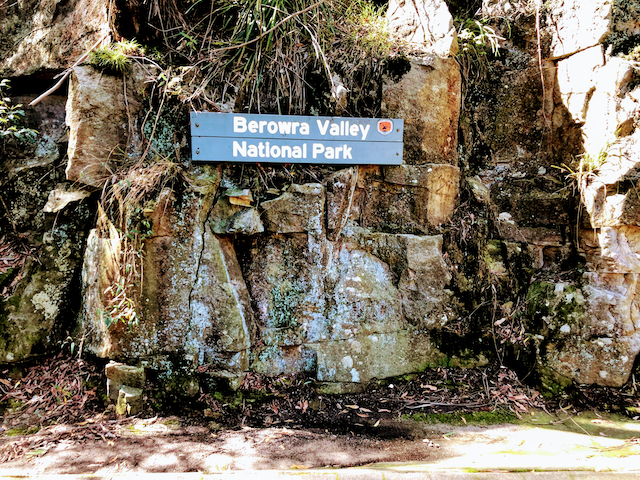 We took the very short & FREE Berowra Waters Ferry Westbank to get from the Brooklyn area to Berowra National Park.
Great Hiking trails, including connecting with the Great North Walk.
Great stop on an epic journey, or day trip from Sydney or Newcastle with beautiful lookouts and scenery.
There is access to canoeing and boating.
Hikes of all levels

Now to the west of Sydney,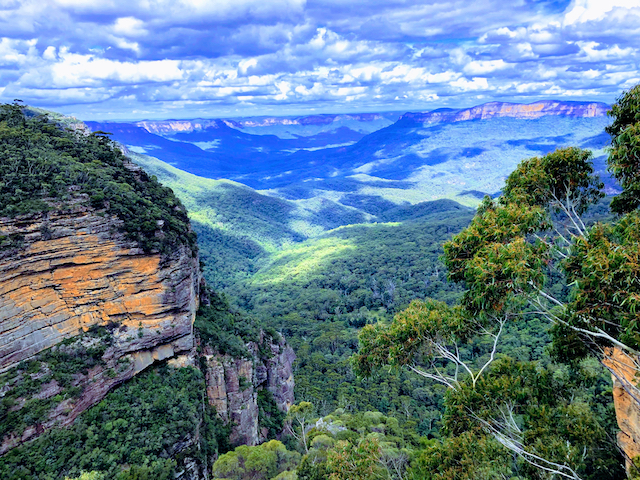 Blue Mountains National Park is stunning.
About a two hour drive from the heart of Sydney. If you are willing to hike, or simply walk a few feet away from the tour groups, you will have a much less crowded experience.
If you are looking for a spectacular view, there are many places to stop along the way. Be sure to check your map. Places like Bridal Veil Lookout, have a few view areas and are a short hike.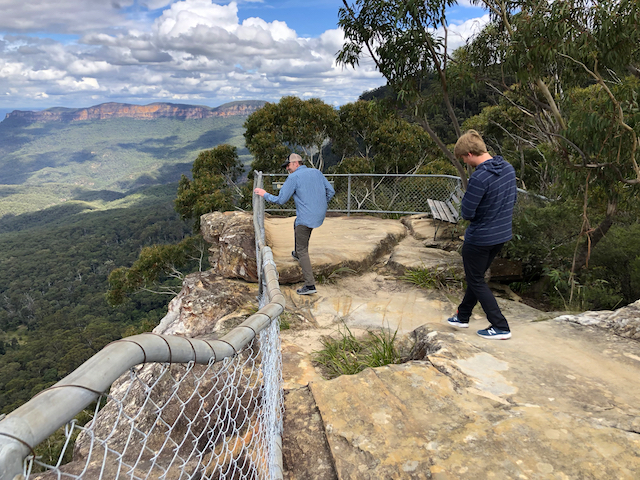 There were a few viewpoints to Bridal Veil Falls. You can actually see the falls from Govetts Leap. We parked up the road. Then walked to trails. It took about 5 – 10 minutes to hike to the first lookout. It is an easy to moderate hike.
Level 2 -3 Beginner Hike — Keep in mind the Bridal Veil Falls Lookout is on a trail system. If you continue on, the level of difficulty increases to a Level 6 -7 Moderate Hike.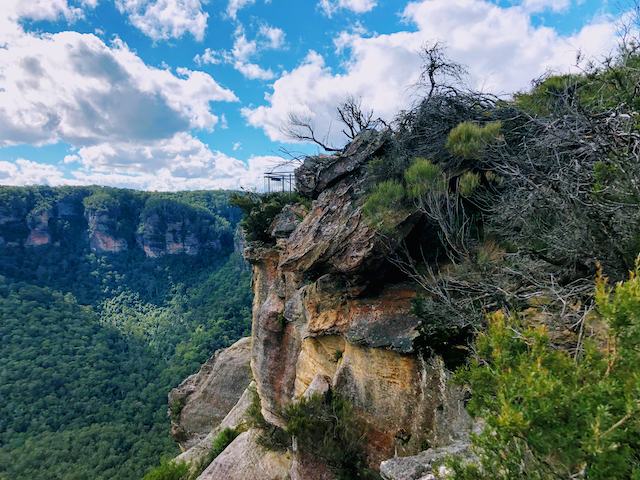 This was one of our favorite lookouts.
You park on the side of the road.
Level 1 – Level 3 Beginner Hike, depending on how far you decide walk. Great views are definitely close.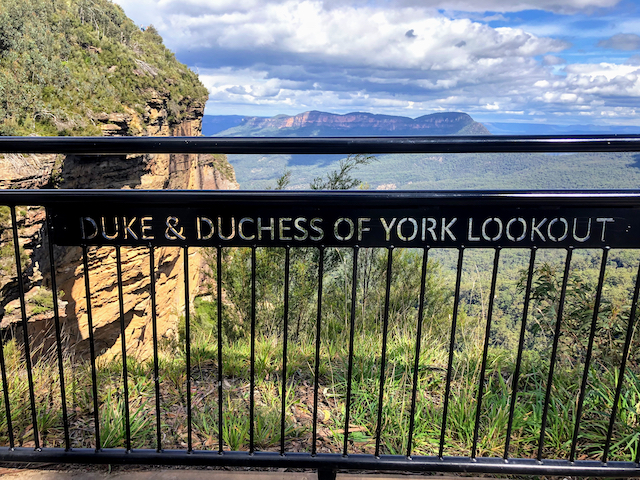 Level 1 – 2 Beginner Hike (You walk a very short distance to see the view.)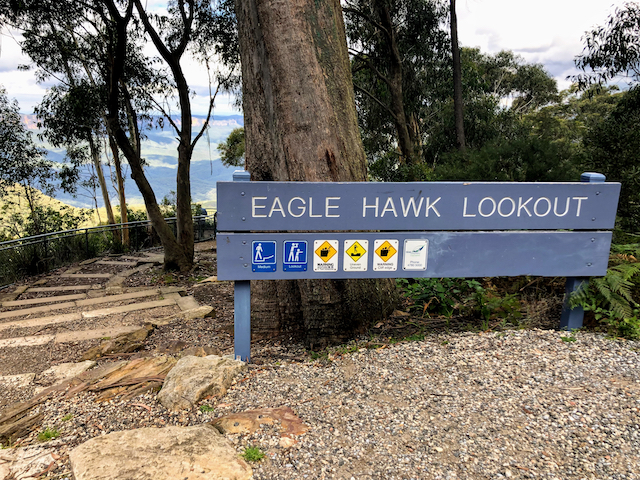 If Echo Point Lookout is too crowded, try Eagle Hawk Lookout. Keep in mind, Echo Point Lookout gives you a much closer view of the Three Sisters.
Level 1 – 2 Beginner Hike (You walk a very short distance to see the view.)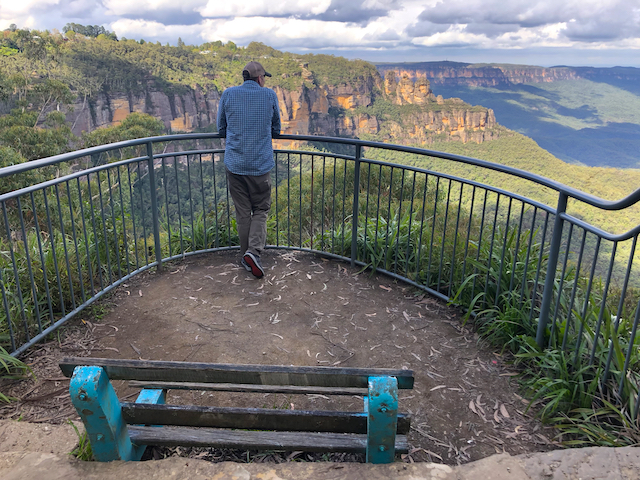 If Echo Point Lookout is too crowded, try Eagle Hawk Lookout. Keep in mind, Echo Point Lookout gives you a much closer view of the Three Sisters.
Level 1 – 2 Beginner Hike (You walk a very short distance to see the view.)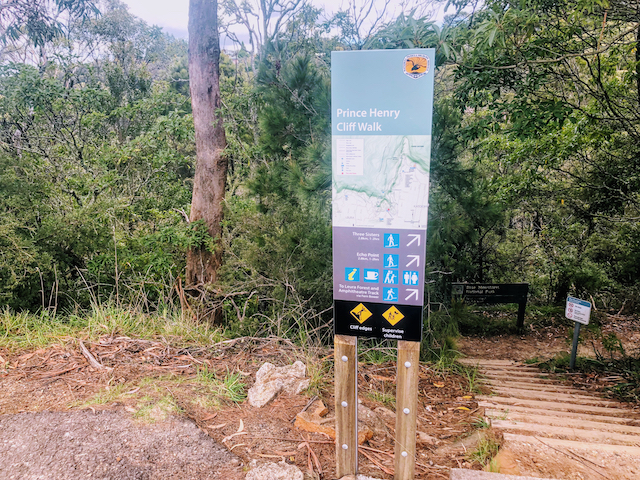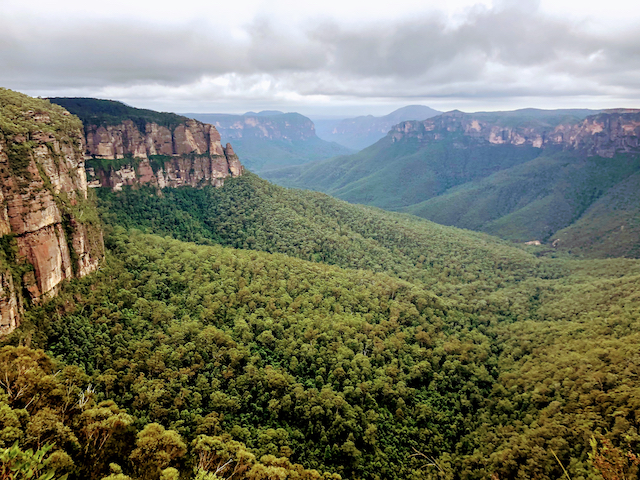 Govetts Leap is a lookout near Blackheath. You can literally drive up, park, step out of your car, walk up to the barrier and see the view. It is spectacular.
There are very nice restrooms at Govetts Leap.
Pro Tips:
If you are not comfortable driving on the other side of the road, don't hesitate to take public transportation to Blue Mountains National Park, though it will limit the number of different areas you'll be able to visit.
We found the highway to Newcastle/Nelson Bay not-especially-scenic. If you are driving, take the back roads.
Here is a link to Hiking Levels explained (Thank you LA Trail Hikers). Feel free to review this post. I will try to rate the hiking level of our stops. Wish me luck!